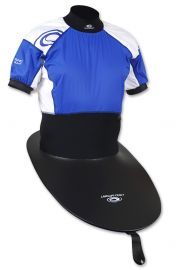 Today I tested out the K1 Extend light in a competition event at Harefield.
I found this cagdeck amazing it fitted to my skin so nice that it could of easily been used as a race vest. The cag is semi dry which is excellent in a competition as you want as little water in the boat as possible. The spraydeck is also very good. On first impressions we thought the marterial used was strange however when i got on the water my fellow paddlers all found that they got out wet,  when I got out I was bone dry.
i highly recommend that you buy this cagdeck from Hiko because it really is worth the money.  In my last review I said that spraydecks weren't meant to keep you dry, just stop too much water getting into the boat, however this cagdeck made me think that yes they are and they can. Hiko really have made a breakthrough in there cagdecks.
I rate this product  a massive 10/10

Join the forum discussion on this post - (1) Posts
Comments Off