Hiko Cinch review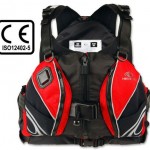 On Monday I got some new kit from Hiko, the Cinch Buoyancy Aid, so you have gone to the shop to buy a new BA and you see the cinch on the shelf, from a visal look its a very nice BA and for the price you think its to good to be true, well read on and find out what I thought of the cinch.
The first time I tried it on at home i was stunned as it seemed like it was not there. The Cinch is a light BA but very effective, it is designed for white water use as well as rescue work. However I decided to put it to the test doing some flat water play boat skills, as I had no white water to hand.
This BA is super light and allows you full movement of your arms, shoulders and waits. It comes with to very handy pockets at the front for the must have items, A added extra is to have a quick release system built into the BA. This is what is needed to do live baiting white water rescues. It also has a very handy knife buckle on the front of one of the pockets giving you nice easy access to that knife when you need it. The only down side is you have a flick knife there is no pocket to store it in.
With a zip up front the Cinch can be put on like a jacket or pulled over the head as it has straps at the side and on the top to tighten the Cinch to your body.
I rate this new Buoyancy aid 9/10
Below is a slideshow of the Cinch



Join the forum discussion on this post - (1) Posts

Comments Off