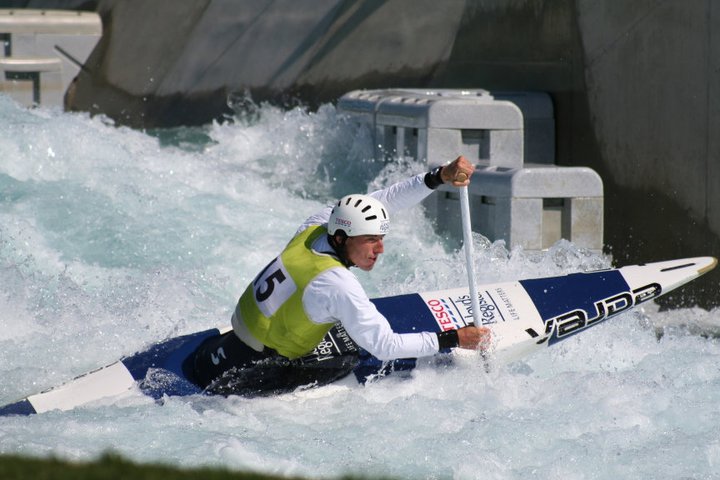 I got the privilege to interview David Florence with some interesting questions about his past and his aims for the future. All you young paddlers out there things didn't just happen for David it was down to his hard work that has finally paid of. We wish him the best in the coming season of canoe slalom.
Where was it you first got onto the water?
My uncle brought some canoes to the beach one day and my brother and I had a shot, enjoyed it and wanted to go again.
Did you become hooked in the sport or did it take some getting into the sport?
I became hooked very quickly.
Can you remember your first canoe slalom competition and what was your results in it?
My first competition was in Comrie in Scotland and I didn't do very well at all. I capsized and swam.
When you first started competing canoe slalom did you stand out or have you got where you are from you training in the sport?
I was a long way behind most of the other top juniors when I started out, but I was always very determined.
Who was your first sponsor and how did you go about getting it?
My first sponsor was Rasdex, who made canoeing equipment in Nottingham at the time and I just asked them if they'd help me out.
Did you ever think you was going to be so successful?
No, I just loved the sport and wanted to go as far as I could in canoe slalom.
Why did you choose C1 over K1?
I started doing a bit of C1 training so I could compete at K1 and C1 in the Scottish Schools Championships. I really enjoyed it and decided to switch to C1.
What do you think of the new Lee Valley White Water Centre?
It's very impressive: very big water with lots of good drops and features. It's one of the best courses in the world in my opinion.
Was the 2011 Team GB qualification event hard having paddled the course very few times if any?
I had been training there since the beginning of the year with the squad so I had done a fair bit of training there before British Team selection.
Do you get nervous before big events, if so what do you do to relax?
I usually feel a bit nervous, but I guess that's only natural.
How often do you train and for how long?
I generally train twice a day for about 60-90 minutes, six days a week.
What does a training session consist of is it all just paddling or is it more specialised?
Most of my training is canoeing on the white water.
What are your hopes and aims for the future?
For now I'm looking towards the London 2012 Olympic Games.
Slightly tongue and cheek Who do you tip for Silver and Bronze in the London Olympics in the C1 and C2 event?
Haha, I appreciate your faith in me. The top guys to look out for in C1 are Estanguet of france and Martikan of Slovakia and in C2 the Hochschorner brothers of Slovakia have been very dominant for many years now.
What advice can you give to anyone that wants to compete at your level?
Train hard and enjoy it.